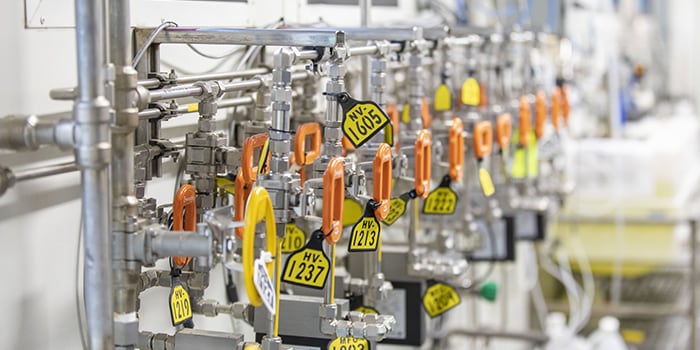 Chemical
Swagelok fluid system components help in laboratory and pilot plant research to develop new chemicals. When you're ready to move to full-scale production, our expertise in engineering and field support can help you manufacture safely and economically.
Our fluid system products are specifically designed to optimize analyzer performance. We help OEMs build sustainable equipment, allowing the batch and continuous processing systems — fluid flow, heat and mass transfer, mixing, separation, and utilities — to work at utmost efficiency. Swagelok components are readily available to support new construction and the MRO needs of chemical plants worldwide.
Over the years, we have built an extensive portfolio of fluid system components to meet the chemical industry's everchanging needs, this earning us the leading reputation for quality and service in the industry. Proven Swagelok reliability minimizes safety concerns, costly leaks, and unnecessary maintenance, downtime, and reworks.
Mechanical Efficiency Program
We offer a mechanical efficiency program that utilizes API 682 piping plans and field installation kits to ensure protection of your seals and overall system efficiency, even on retrofits. Designed and fabricated locally in Allentown, these systems are built with reliable, warrantied Swagelok components. The assemblies come in versatile mounting options and can be equipped with additional instrumentation options.
Seal Support Systems- Adhering to API 682 and backed by our Swagelok Limited Lifetime Warranty, our seal support kits and assemblies avoid pipe threads and limit the number of connections to connect the support piping to the pump.
Analytical and Process Insrumentation
Grab Sample Systems – Included under our mechanical efficiency program are our grab sample systems. Designed for efficient sample capture, our Grab Sample Modules (GSM) and Liquid-Only (GSL) provide an accurate sample of your process fluid to make certain you are meeting your required application specifications.
Valves with Low-E Certifications – As Greenhouse Gas (GHG) emission program requirements are becoming more stringent, it is imperative that your fluid system is a closed system and not releasing emissions into the atmosphere. The valves used in our systems are Low-E certified surpassing the American Petroleum Institute's most stringent fugitive emissions (API 624 and 641) testing without design modification. Just another way Swagelok enhances the safety and reliability of your facility.
Field Engineering & Custom Solutions
Studies on reliability-related mechanical downtime and slowdowns in chemical plants have found that efficiency or product losses due to fluid system fouling, plugging, freezing, cracking, or corrosion is becoming more common. Our field engineering team can help improve your fluid systems through energy audits and fluid system evaluator and advisory for
Improved process efficiency through high performance rotating equipment, heating systems, and reactors

Optimized performance of utilities

Improved energy intensity metrics
Check out our latest blog for tips for optimizing your system and ensuring plant safety. Contact us for assistance with your specific project.