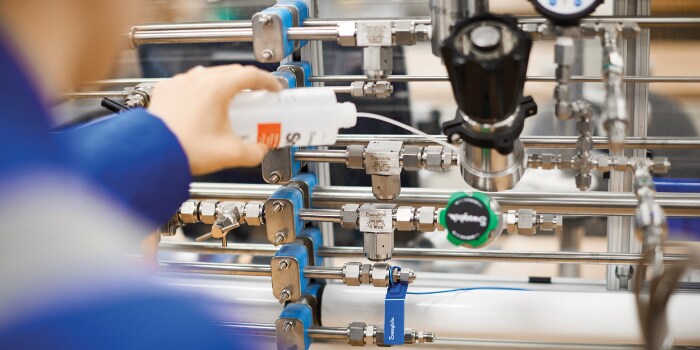 Fully Assembled and Tested Gas Distribution Panels for Industrial Applications
Gas distribution systems must safely and effectively deliver gases from a high-pressure source to the end process at the pressure and flow rate required by each application. When system operation is not intuitive, when leaks are present, or when gas panels are difficult to service, however, problems can arise.
Overlooked leaks of costly gases can reduce your profitability
Leaks of utility gases can threaten process efficiency and raise operating costs
Many leak types can also create safety hazards for your team members
Gas delivery system issues can lead to process interruption and unplanned downtime
Often, industrial facilities do not have pressure reduction expertise or resources to effectively address these issues in their gas distribution systems. Swagelok Allentown can help.
See how our advisors help small teams optimize and better manage expansive gas distribution systems through our gas distribution program.
Swagelok® Gas Distribution Systems
Whether you need a standard solution or custom arrangement, we can design and assemble a gas delivery system that is right for you. Our standard gas delivery panels come fully assembled and tested. They are easy to order from our application guide as single part numbers, minimizing the time your engineers spend on specification and procurement of new systems. They are also highly configurable—we can add features or make modifications as needed to suit your requirements.
We design Swagelok gas distribution systems based on best practices. Our modular panels feature minimal threaded connections to reduce potential leak points, and they are intuitively labeled to promote safe, simple use and maintenance. All our gas distribution systems are backed by the Swagelok Limited Lifetime Warranty.
Choose From Modular Gas Distribution Subsystems
Swagelok gas distribution systems are built around one or a series of pressure regulation steps, and may include four subsystems:
Swagelok® source inlet (SSI)
Swagelok® gas panel (SGP)
Swagelok® changeover (SCO)
Swagelok® point-of-use (SPU)
Hear our engineers talk about the different Swagelok-designed gas distribution subsystems we offer and the benefits they can create for you.
Download our application guide
Additional Support for Gas Distribution Systems
In addition to helping you achieve your gas distribution goals by building standardized, highly configurable gas delivery solutions, we also offer Swagelok® gas distribution evaluation and advisory services. These services are delivered by Swagelok-certified gas distribution advisors who help you improve the reliability of gas distribution systems by analyzing your existing operations and recommending adjustments to improve system performance. They can help you:
Protect the well-being of system operators and employees
Improve uptime, process accuracy, and process repeatability
Reduce costs by minimizing leakage and unplanned maintenance
Focus your time and resources where they are needed most
Swagelok Allentown also offers local after-sales-support for our gas distribution systems to help you keep your systems operating as expected. Find out how our team can support you with training, inventory management, regular system evaluations, and comprehensive asset monitoring and management services.