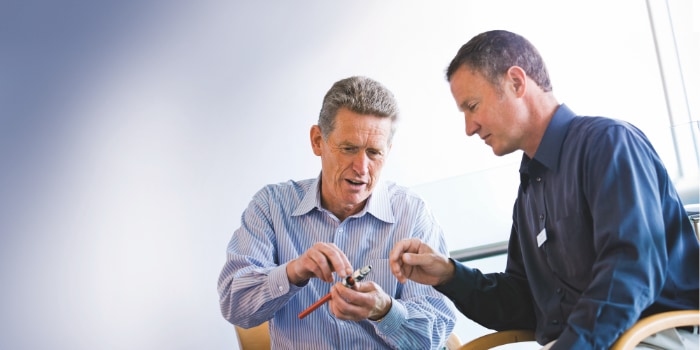 Your Resource for Expert Knowledge and Training
Swagelok's training and education programs provide our customers with a range of valuable and practical tools for meeting day-to-day challenges and keeping up with the latest fluid system technologies.
From an array of in-depth courses taught by expert instructors to training videos and online classes, Swagelok training equips your team to work safer and smarter.
Learn to build and maintain dependable systems. Courses taught by Swagelok-certified trainers at our facility or at a location and time convenient to you.
Upcoming Training Events
We have several upcoming trainings at our facility.
December 14, 2023
January 9, 2024
February 20, 2024
March 12, 2024
Join us at Swagelok Allentown for one of these full-day, hands-on, Tube Bending and Tube Fitting Installation Essentials classes. Designed for those involved in the installation, design, and/or fabrication of fluid systems, this training will provide hands-on foundational bending and installation knowledge that will minimize risk of fluid and gas system leakage. Class size is limited, register early. Fee applies. Email us for details and to register.
Our lunch and learn programs support your specific needs and are designed to last an hour.
Choose from three courses that will help you diagnose, troubleshoot, and eliminate sampling system design flaws. Taught by industry experts with 30+ years experience.
Learn how to choose the right corrosion-resistant materials to keep fluid systems leak-tight and operating efficiently.
Learn orbital welding principles, system setup, operation and troubleshooting.
Learn to properly operate, design, and maintain a steam system for improved energy efficiency, productivity and safety, as well as reduced emissions.
Learn different methods of tube bending for both simple and complex offset bends with hand and bench-top tube benders.
To schedule any of the above training courses, contact us via e-mail or call 610-799-9001.