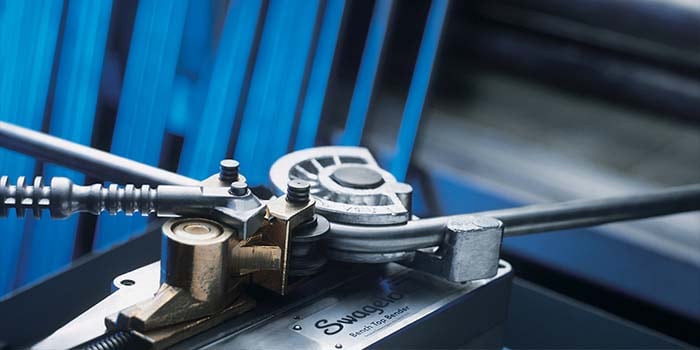 Swagelok Advanced Tube Bending
Objectives
Optimize your tube installations by learning practical tube bending techniques
Content
Explain three variables that must be considered when bending tube
Describe springback, how it affects the bending process, and ways to compensate for it
Identify the components of the Swagelok hand tube bender
Explain the purpose of the straight tube length mark on the name plate
Explain minimum length of the last leg and describe how this length can be used
Explain the purpose of the three types of marks used in the Swagelok method of tube bending
Calculate the length of tube used in an offset given all necessary information required to make the calculation
Bend tubing into a shape as specified by a template using the Swagelok method bend data, and tube bender
Identify five potential bend defects and explain their causes
Who Should Attend
Fabricators, installers, technicians, contractors, engineers and managers involved in designing and constructing tubing runs for process and analytical instrumentation systems
Additional Information
Available in 2-, 3- and 4-day options, with each day adding important new skills:
2-Day Course: Receive full instruction on using hand tube benders up to ½" diameter

3-Day Course: Add detailed education on using bench-top tube benders

4-Day Course: Augment your skills further with training on how to use electric tube bending equipment
If you're interested in a briefer refresher course covering the fundamentals of reducing connections and leak points with some focus on bending techniques, learn more about our Swagelok Essentials Tube Bending training.
Registration
Email fieldservices@swagelok.com to request private training at your site. We will follow up with full details.